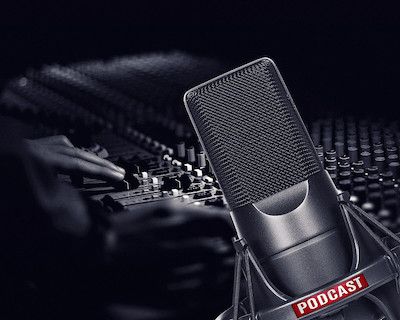 I love podcasts. They are a great way to pass the time and learn something while doing mundane tasks like walking the dog, folding laundry, or anything else that does not keep your mind fully occupied. I have been listening on and off since the early 2000s, back when it was just guys grabbing a mic and recorder and talking about whatever they wanted because it was their show. No networks, producers, or production companies; just content.
A lot has changed. The whole genre has become more commercial, but some of the content has become really nuanced and in-depth. The variety is amazing. Search for any subject you are interested in, and chances are you will find a show about it. Some shows take 30 minutes to discuss one topic and move on; others cover a subject in depth for 12 hours over as many episodes.
So if you listen to podcasts and are looking for your next favorite show, or if you want to try it out and are looking for a place to start, here's a list of a bunch of my favorite shows that I am listening to now.
Christian
Breakpoint
Originally started as a Christian radio show by Chuck Colson, Breakpoint is technically three different podcasts in one feed: Breakpoint, The Point, and Breakpoint This Week. The original Breakpoint is a daily five-minute commentary by John Stonestreet, President of the Colson Center for Christian Worldview. Each episode is about five minutes long and features one issue affecting the cultural moment. The Point is also a one-issue commentary, but only about one minute long. Breakpoint this week is a one-hour weekly show discussing the news stories of the week from a Christian worldview. The show is thoughtful and engaging and breaks down current stories and issues from a Christian viewpoint.
Upstream
Upstream is another podcast from the Colson Center that features Shane Morris interviewing Christian authors and scholars about more theological topics. It can get pretty weighty, but after every episode he publishes a "Further Upstream" episode where he talks to one of his fellow Colson Center staffers who helps him make the original episode much more accessible.
Rooted in Christ
Rooted in Christ is a podcast of Redwood Christian Ministries, founded by my friend Eric Stephens. Eric interviews evangelistic thought leaders from around the country to learn their stories and inspire others to sharethee gospel. The show shines an up-close and personal light on their stories and is raw and honest.
Ask Pastor John
John Piper is a Christian pastor, teacher, author, and thought leader in Reformed theology. He is the founder of Desiring God, of which this is one of the podcasts. They release shows several times per week that feature sermon snippets, Pastor John answering questions from listeners, and other content. Pastor John is one of the most knowledgeable theologians living today, and yet his teaching is very approachable and easy to understand. Almost every point he makes on something is informed by quoted scripture.
Technology
Mac Power Users
These next two are podcasts by David Sparks. David is a lawyer by trade but has been using Macs and other Apple gear for 40 years. He and his co-host Stephen Hackett discuss all kinds of ways to get the most out of your Mac, including software deep dives, recommendations on software and hardware, and interviews with developers.
Automators
Also an Apple-centric podcast, David and Rosemary Orchard discuss how to get the most out of your devices using automation. Honestly, this is where I learned a lot of what I know.
True Crime
True crime is a huge genre. There are tons of shows using a variety of formats. Some tell a story in one or two episodes; others take a whole season to dive into an incident and cover everything. Hosts also come from a variety of backgrounds, such as former law enforcement, investigative journalism, and armchair detectives, all of which put a different spin on the way they approach cases.
Let's start with some weekly, episodic shows.
True Crime Garage
TCH is easily my favorite true crime show. The Captain and the Colonel have produced over 600 episodes. Some cases are one-shots; some cases take several episodes to do deep dives. I also like that they periodically go back to update cases that have seen new information come to light. They also have a really good sense of humor.
The Deck
The Deck is one of several AudioChuck podcasts that I listen to. Each week, host Ashley Flowers tells you about a cold case that the police are looking for help with. Over the years, police departments have produced decks of playing cards with case information on the back of each card and distributed them in prisons, hoping that inmates might know something about the crime (hence the name). Ashely does her homework and delivers a good show.
Crime Junkie
If you like The Deck, you should definitely give Crime Junkie a listen. Also by Ashley Flowers, Crime Junkie is similar but with a slightly looser premise, as the cases are not always quite as cold. Along with Ashley's co-host, Brit, they discuss all kinds of crimes and some mysteries to boot.
Anatomy of Murder
While the previous shows were headed by very knowledgeable enthusiasts, AoM is headed by two professional crime fighters. Anna-Sigga Nicolazzi is a former NYC prosecutor, and Scott Weinberger is a former deputy sheriff. They bring their experience to the show, offering insights about procedure and the justice system that others don't have.
Park Predators
Hosted by investigative journalist Delia D'Ambra, Park Predators tells stories of crimes that occur in state and national parks. Each episode covers a different murder or other mystery. I enjoy camping, but this one makes me want to stay home.
This next batch of shows covers one case over an entire season, usually about 12 episodes. Some come out weekly, others all at once, so you can binge. They tend to have a lot more depth because they cover so much more information. If you're a serious crime junkie, these are definitely worth a listen.
Counter Clock
Counter Clock is another show by Delia D'Ambra. Each season, Delia picks one case and dives deep into every facet of it. I especially found seasons 3 and 4 fascinating. You can pick any season you want, download all the episodes, and binge it like a Netflix show.
Gone South
Gone South is a documentary podcast with two seasons by Jed Lipinski. The first season is about the murder of Margaret Coon. While doing the research for season one, Jed learned about a loose crime organization known as the Dixie Mafia. It's a really interesting story about organized crime in the Deep South.
Somebody Somewhere
Somebody Somewhere is another investigative journalism podcast, this one by Jody Gottlieb and David Payne. The first and third seasons are particularly interesting because they tell the stories of the unsolved murders of the only two US attorneys murdered while on the job. There are a lot of twists and turns, but they navigate them and explain everything quite well. I recommend binge-watching these if possible because there are a lot of details and they can get confusing if you go awhile between episodes.
Our final "category" or type of true crime podcast is the single season. These are similar to limited series (or what they used to call miniseries) on TV. They only have one season for the purpose of telling one important story. Once you listen to the last episode, you can remove them from your feed, although sometimes they may drop an update to the story in the feed or a trailer for a new show coming out on their network.
The Letter
The Letter is both a tragic story of random murder and the senseless loss of a loved one and a beautiful story of forgiveness and redemption. It tells the story of Zach Snarr, murdered by Jorge Benvenuto in 1996, and the pain and loss their family went through. But it also tells the story of how Jorge, captured and sentenced to prison, wrote a letter to Zach's parents, apologizing for the crime, and how they got together to make some form of amends. Especially for me as a person of faith, I found the story to be a very inspiring story of repentance and redemption.
The Deck Investigates
As you may surmise from the title, The Deck Investigates is somewhat of a spinoff of The Deck by Ashley Flowers. But instead of dedicating each episode to one case, Investigates tells the story of the 1984 murder of Darlene Hulse over an entire season. Earlier this year, Ashley toured this story at live events, but now she has released it as a complete binge-able season.
One caveat on this show: I placed this in the only season category, but looking at the website, there is a mention of it being season one. So there is a possibility that this show could have more seasons. It may come down to whether or not Ashley finds another case that merits this kind of attention.
Undetermined
Undetermined is about the suspicious death of Jessica Easterly Durning and relates to the autopsy designation of undetermined for the cause of death. These cases get little to no attention or investigation because the police do not know for sure if foul play was involved. Jessica Noll and Todd McComas take you through the whole story of what we know happened and how the family has been fighting since 2019 to get more answers.
History
History is a broad subject with a lot of niche interests. That being said most of my recommendations are shows produced by Aaron Menkee, who does a great job finding largely unknown stories, that are often a bit weird and macabre. If these aren't your cup of tea I would suggest doing a search for podcasts that cover your historical interests, as you are bound to find something that you like.
Lore
Lore is Aaron Menkee's flagship podcast. In fact, it's not just a podcast. Menkee has produced two seasons of a TV series and several books under the same name. Each week he covers several short stories from history in a style that is reminiscent of Paul Harevey's The Rest of the Story. One of his taglines is "the scariest stories are true," and from the episodes I have listened to, he may not be wrong. On any given week, you may hear about witch trials, pirates, ghosts, or any other subject that comes from our world's crazy history.
Cabinet of Curiosities
Cabinet of Curiosities is similar to Lore, but it is more of a freak show than a museum. Twice weekly, Aaron delivers two short stories of the strange and twisted from history. Some of these stories, if you didn't know they were real, you would swear were made up.
Grim & Mild Presents
Grim & Mild Presents has a similar format to the true crime podcasts that take a whole season to cover one case, but instead they cover a subject in history. The show is biweekly, covering 13-episode seasons with no breaks. Season 1 was all about the history of sideshows. Season two is about pirates. The current season is called Bedside Manners and details some of history's most interesting medical techniques, like bloodletting or other weird cures for diseases.
Killed
If you are interested in learning more about journalism and how it works, check out Killed. Justine Harman explores the history of various stories that were never published because they were too controversial. She often interviews the reporters who worked on the stories but either had to take the story somewhere else or never got to tell it. This includes an essay on Gore Vidal from George Magazine and a story from a piece from New York that was meant to exonerate Jeffrey Epstein.
The Sunshine Place
This is a fascinating story! The Sunshine Place is the story of the rise and spectacular fall of Synanon, which started as a kind of hippie drug rehab program in the 1960s and devolved into a terrifying cult that featured beatings, guns, and fortified communes. Executive produced by Robert and Susan Downey, Jr., and narrated by Sari Crawford, whose father was a founding member and met Sari's mother there, The Sunshine Place takes you on a wild ride from innovative rehab program to dangerous cult.
So there you have it. Hopefully, in this list, you will find something you like. If not, it might inspire you to go looking for other shows that cover your interests. If you have any suggestions, please leave them in the comments.
---
Photo Credit:
"Podcasting" by mikemacmarketing is licensed under CC BY 2.0.
---
---
Date
May 3, 2023
---
---